Dear Colleagues,
Greetings from World Hypertension League.
I am herewith sending Registration details for Virtual Meeting of ESH 2023 to be held at Milan ,Italy.
I request you to register in large numbers under low middle income countries which comes to 85.4 Pounds
including VAT for 4 days session . I am sure , you will like the entire program on Hypertension related issues
An added attraction is that you would be witnessing 2023 Guidelines for Hypertension from ESH.
Thanks and Regards,
Dr.S.N.Narasingan,MD., FRCP[Edin,Glsg].,FACP,FICP.,FCCP[USA].,
---
Dear Prof. Narasingan,
it was a great pleasure to e-meet you during the WHL call. I do hope we will find the best way to work together for the success of the 2025 meeting in India.
br>
I am now writing you to ask your help for the forthcoming ESH 2023 meeting, that will take place in Milan on June 23-26, 2023. As you know this year the new ESH Guidelines will be released: this is an exceptional appointment for the update of scientific experts in the field of hypertension and related diseases.
br>
Last year we had at the end approx. 500 Indian participants (all virtual) and do hope we may repeat this successful and fruitful experience. May I therefore kindly ask your help in spreading out this information (see newsletter under below attached), helping us to collect a large number of local registrations? Kindly note that a special fee for individuals coming from low- and middle-income countries has been introduced. Please check the congress website: https://esh2023.eu/registration/. Based on the current registration fee, individual participants will be charged 70€ each to enjoy 4 days of full immersion and virtual interaction with the most prominent KOL's.
br>
Should you need any further information please do not hesitate to contact me, I will be more than happy to help you!
br>
Kindest regards
Maddalena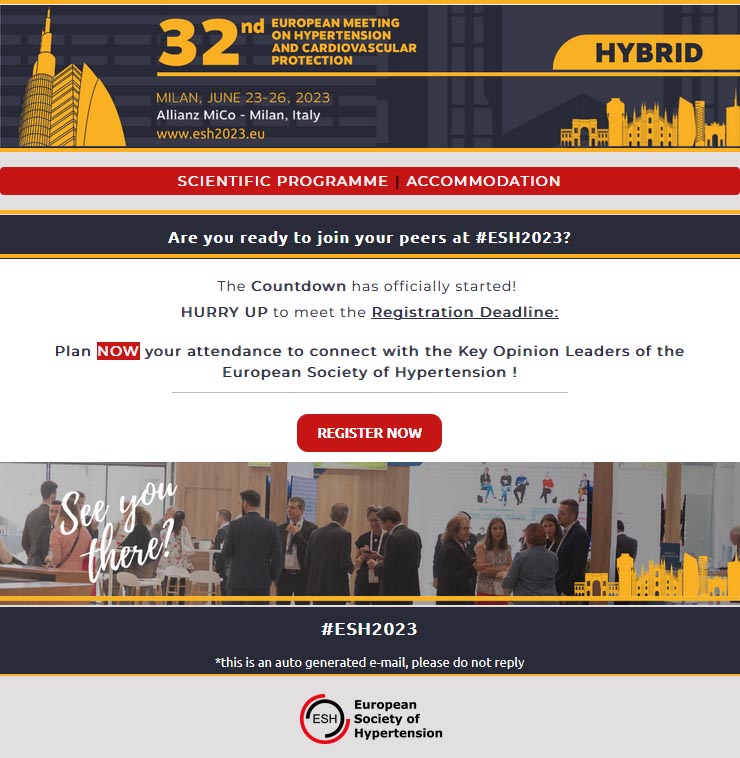 ---